Costa Adeje in the south of Tenerife is a world where you will find luxury hotels, beautiful beaches, natural landscapes, theme parks, shopping centers and restaurants. The area is a favorite destination for local and foreign tourism due to the 3,000 hours of light and more than 300 days of sunshine per year.
At first there was Adeje, which began as a small town located near the mountain, and like every other town, over the years, with the arrival of tourism and frequent flights from Thomas Cook to the Canary Islands, it began to exploit its coastline giving rise to the Costa Adeje.
Costa Adeje currently offers a variety of luxury hotels that combine with natural landscapes, a selection of shops, and a great gastronomic offer. Having more than 300 sunny days a year, it gave way to the development of golf courses and the magnificent beaches. I personally am a supporter of a balance in nature, thus I thank the laws of exploitation for slowing down its development, since the tourist demand does not satiate and this would have been a concrete jungle. (if it isn't already)
At the end of 2008, Siam Park was inaugurated, the water theme park that gave a boost and incentive to tourists to choose Tenerife over other European destinations. According to Trip Advisor, the park maintains to be the "best in the world".
Beaches of Costa Adeje
Whether you live in Adeje or are on vacation, one of the main attractions of this complex are the beautiful beaches. There are 16 in total to choose from; There are some beaches that fall under other municipalities depending on the map you choose.

Fañabé Beach – Golden Arena, surrounded by shops.
Duque Beach – Golden sand, quiet surrounded by few restaurants.
Torviscas Beach – Golden Sand, Super Tourist.
La Pinta Beach – Golden sand, gentle waves. Great sports offer, and ideal at night for terraces near the sea.
Ajabo Beach – Volcanic sand, good beach services.
San Juan Beach – Golden sand, quiet and rustic ride.
Troy Beach – Golden sand, super tourist and central beach.
Bobo Beach –
La Enramada Beach – Volcanic Arena, has a beach bar to enjoy the sea with a drink.
Bathing area El Cabezo, Muelle de La Caleta and Varadero – Black sand, the most beautiful of all.
Los Morteros Beach – Gray sand, ideal for diving.
Diego Hernandez Beach – White sand, low tide.
Puertito de Adeje beach – Golden sand, crystal clear waters ideal for diving.
Las Salinas Beach – Volcanic sand, calm waters.
El Pinque Beach – Volcanic sand and gravel, calm waters.
Las Galgas Beach – Clear sand, has palm trees and has calm waters.
Things to see in Costa Adeje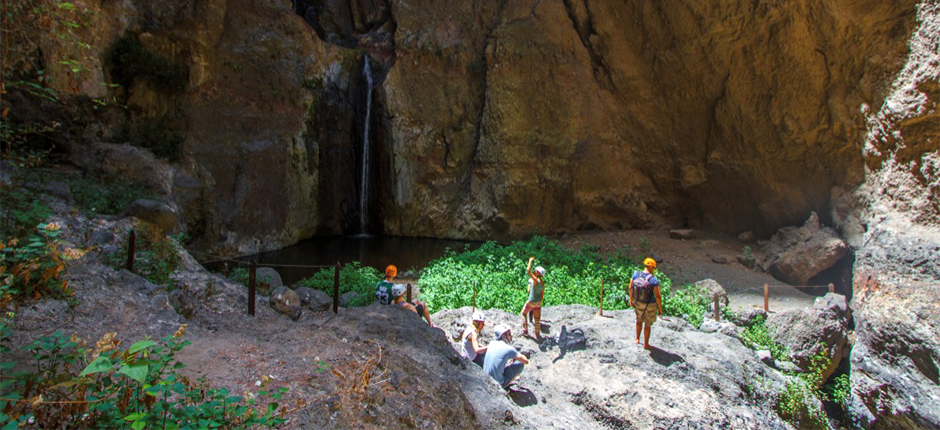 Barranco del Infierno: Would you like to go hiking? The closest to Costa Adeje, a special nature reserve and site of tourist interest. Six kilometers traveled in three hours, the final prize being a cascade of water that flows throughout the year.
Strong House: Historic-Artistic Monument, In 1553, Pedro Ponte requested to build a fortification to defend the area from the continuous pirate incursions that ravaged the coast of Adeje.
Old Hermitage of San Sebastián: The Hermitage of La Encarnación or La Enramada, built at the beginning of the 16th century, being rebuilt in 1558 by order of Pedro de Ponte.
Church of Santa Úrsula: Historical-Artistic Monument, one of the first religious constructions of the South of Tenerife, possibly erected in the years following the conquest of the island in 1496. The building is composed of two parts, built in different periods. The left part, Rosario chapel and the dressing room are from the 16th century, and the main chapel are extensions made by the Marquis of Adeje in the 17th century.
Church of the Convent of Our Lady of Guadalupe and San Pablo: Historical-Artistic Monument over the area, Over time, it has had different uses, such as a shelter for a company of soldiers, tomato packaging warehouse, teaching school among others. In 1991, it was restored and open to the public as a Museum of Sacred Art
Old Mill: it is a water mill, located near the access to the trail of the Barranco del Infierno, which collected the waters of the ravine that ran through a canal built in the first half of the 16th century, which places the origin of the mill in The same era.
Plaza de España: here are the Church of Santa Úrsula and the Convent, enjoying magnificent views of the Barranco del Infierno. It has always been the place of meeting, rest, games and parties of the Adeje towns people.
Siam Park and others: Considered one of the best water parks in the world. Other local attractions are